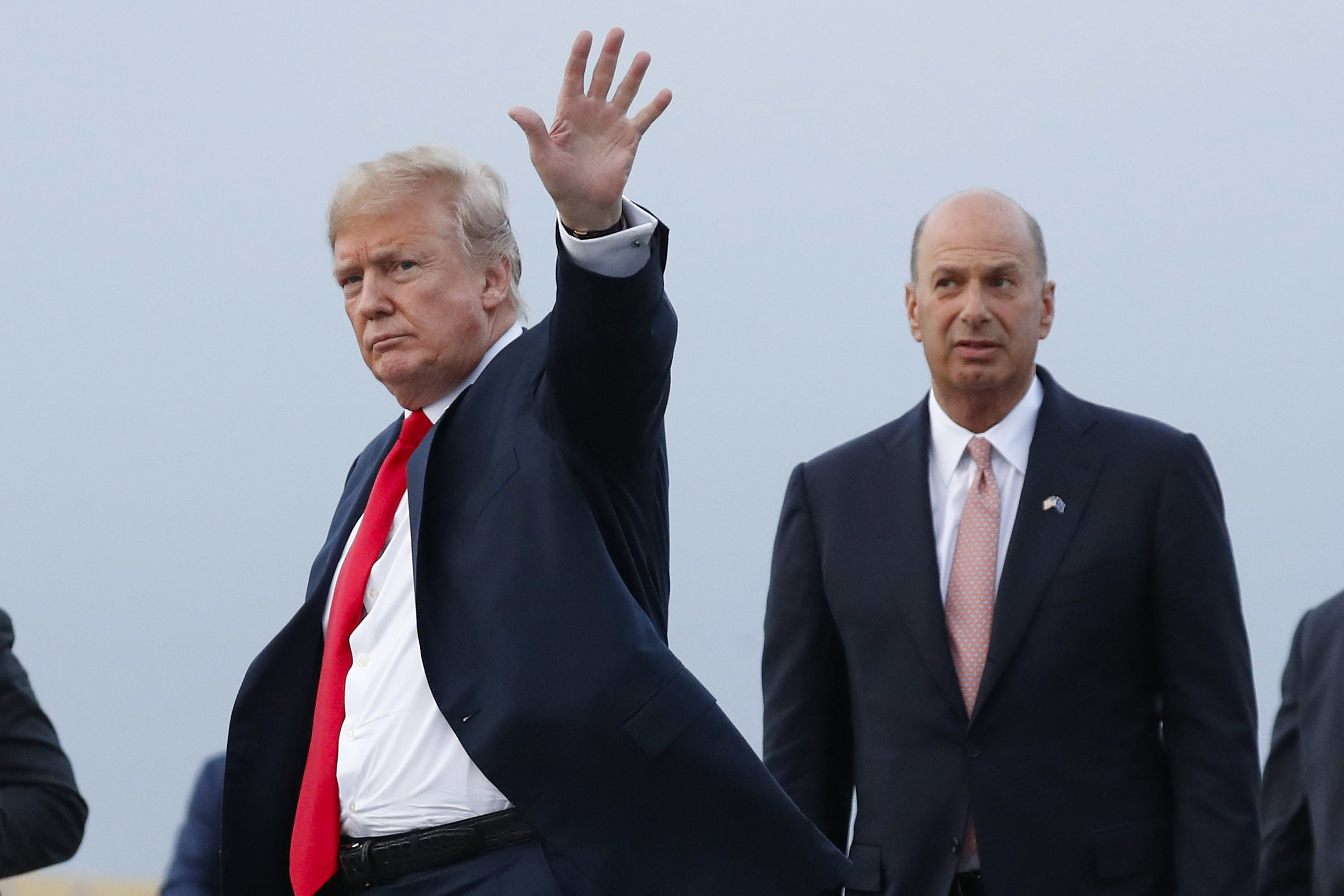 (EDITOR'S NOTE: We have come across the leaked transcripts of a July 26 call between U.S. Ambassador to the European Union Gordon Sondland and President Donald J. Trump. The bombshell phone call came to light during Acting U.S. Ambassador to Ukraine William B. Taylor's testimony in front of Congress during Wednesday's Impeachment Hearings.)
<garbled noise>: Hello?
Gordon Sondland: Hello? Hello?? Sir! Sir!!
Donald J. Trump (nasally): Who the fuck is this?
Sondland: Gordon! Gordon!! In Kyiv!!!
Trump: Gordon and Keith? Do you know what fucking time it is, asshole? How did you get my number?!
Sondland: No, not Gordon and Keith, ahem, it's Ambassdor Sondland in Kyiv, Ukraine! And it's 11 a.m. here, sir. I have great news!! You told me only to call, if I have great news and, well, jackpot!!!
Trump: Ah, right … the triple-chinned bald guy, Gordon, with all the loot. Gordon … <garbled noise> hang on … It's 3 a.m. here you, dimwit. Let me get my slippers. Ivanka, honey, can you grab my slippers from behind the chaise, rumble-love?
Sondland interrupts: Can you please speak up, sir? I am dining in a noisy restaurant with a few of Bill's gang. Great guys … but it is hard to hear you.
Trump: Bill's gang?
Sondland: Still can't hear you, sir. Please speak up.
Trump: BILL'S GANG, YOU STUTTERING MORON????
Sondland: That's much better, Oh Powerful One. Yes, Bill Taylor's guys.
Trump: WHO IN THE FUCK IS BILL TAYLOR, YOU BUMBLING OUT OF YOUR LEAGUE LIGHTWEIGHT???
Sondland: The super smart guy with the thick, rich, great head of hair? The guy who knows literally everything about everything over here? Sounds like Walter Kronkite? The war hero? The career diplomat who knows all the presidents? The West Point Grad? The guy Mr. Pompeo loves and trusts? The …
Trump interrupts: OK, OK, JESUS. YEAH, I KNOW THE GUY. I SWEAR HE'S A PHONY. NOBODY'S THAT GOOD. SO WHAT'S THE WORD. I'D LIKE TO GET A LITTLE MORE SHUT EYE BEFORE MY MORNING COFFEE AND McMUFFIN WITH STEPHEN.
Sondland: Yes, sir, of course. That little thing we talked about with the Bidens? Well, all I have to say is mission accomplished! The Ukrainians are ready to move forward with the investigations.
Trump: So they'll do the investigations, eh?
Sondland: Sorry, sir, can't hear you, louder please.
Trump screaming now: SO THEY'LL DO THE INVESTIGATIONS, YOU SLOBBERING MORON??????? IS THAT BETTER OR DO I HAVE TO FLY OVER THERE AND SCREAM IT IN YOUR EAR!!!!!
Sondland: Better, sir. Much better. I think the entire restaurant can hear you now! And no need to fly over here and scream at me. I get enough of that from Rudy. He's a very evil little man, you know.
Trump: WELL, I PAY HIM WELL FOR THAT.
Sondland: I am sure you do. And he works very hard on your behalf.
Trump: WELL, HE BETTER. I COULD CUT HIM LOOSE ANYTIME I WANT. VLAD THINKS I SHOULD HAVE CUT HIM LOOSE A WHILE AGO, BUT HE STILL HAS HIS USES.
Sondland: Yes, sir. He is very useful. I can see that the way he carried those briefcases around on your behalf. And such eclectic friends he has over here. Russians and Turks and more Russians and …
Trump interrupts: YEAH, YEAH … LOOK I GOTTA RUN. AND WHATAYA KNOW. I GUESS MY LITTLE TALK I HAD WITH SELENSKY YESTERDAY WENT EVEN BETTER THAN I THOUGHT. THAT CREEPY JOE BIDEN'LL NEVER KNOW WHAT HIT HIM.
Sondland: Yes, sir. You are incredibly convincing.
Trump: NOBODY CAN MAKE A DEAL LIKE I CAN.
<click>
(Photo, Time)