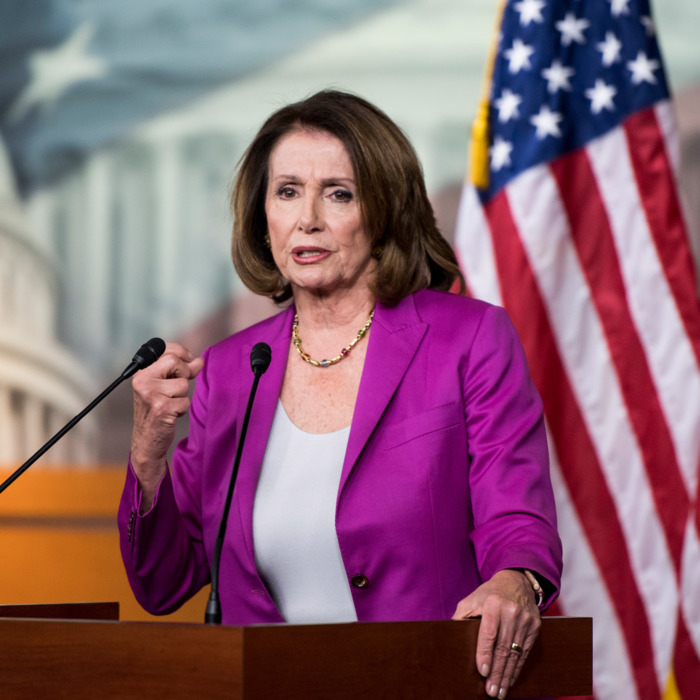 Tuesday, June 4, 2019
Dear Madam Speaker,
I am prone to emotion when typing about you, so best I get the gushy stuff out of the way early, before I attempt to carve out a sharp point.
Thank God you are leading our United States Congress. Like tens of millions of human beings across the globe and mostly in America, I have taken little solace these past two-plus, tear-jerking, rage-inducing years. So 'round about 9 p.m. local on the night of this past Nov. 6, when it was announced the Democrats had reclaimed the House of Representatives, I cried.
Not only had we finally got a check against Trump's Republicans, but a tower of power was waiting in the wings to lead us back from the abyss. "Nancy's back!" I told my wife. "Game on, dammit."
History was written that night. Democrats flexed their righteous muscles and freedom rang. Gerrymandered to the point of suffocation and split apart at our rural-to-urban seams, Americans nevertheless answered the call. 
We really were better than all this, after all …
Washington was a man of his times. It had to be him, or kings would be kings and all that fighting and single-minded determination to push through despite long odds would have been for naught. Lincoln was a man of his times. It had to be him or the great fire of hate would have finally incinerated us all. Roosevelt … Kennedy … Obama … Crisis visited, only to be knocked down by strong, steady hands.
These times are your times, Madam Speaker …
I have typed there will be monuments built in our nation's capitol to recognize all you have done for this country. There will be reflection. Could we have seen the greatness in Lincoln while the dead were piled upon one another in Gettysburg …?
News is written in real time. History has the luxury of perspective as its editor.
Because of this vicious 24/7 news cycle, time and history are colliding like never before.
I fear we are running out of time. I will be careful not to scold, but I do despair, ma'am.
While I wish Mueller's Report had just gotten to the point, aside from the anti-American phonies on the right, nobody can now refute what it was strongly implying.
Trump obstructed justice. If he were not president — and those words sting as they're typed — he would be charged as the enemy of this country he most assuredly is.
So when another opportunity was missed this past Wednesday, and Mr. Mueller all but placed impeachment on the tee, and asked Democrats to swing away, I gasped while we stood frozen and did … nothing.
For all our good … For all our righteousness … For all we stand for … Liberals have a recent history of being really rotten at crafting a message that rings. Are we too polite while serving the truth?  
My word, when the Mueller Report finally landed, the GOP needed only trot out some shoddy letter penned by a GOP operative that essentially said, "Nothing to see here. Trump did nothing wrong. Now enough with the bother. Be on your way, you gullible nitwits. There are walls to build. "
And Trump's approvals went up.
The calculus that Impeachment will only energize the Right, is an insult to the power and energy on the Left, Madam Speaker.
In the lead-up to the Midterms, we stood in the cold, marched in circles and in our sleep, laid out personal treasure, worked the phones, knocked on doors, righted wrongs and made good and damn sure that on the evening of Nov. 6 we could finally catch our breath again.
We won the battle to stay in the war that night, and won it in history-making fashion.
Sure, we worked for Democrats in that election, but make no mistake about it, we most decidedly were working against Trump. 
Now we are holding our breath and tapping our feet, while Trump continues to burn it all down. He doesn't follow laws, he eviscerates them. He doesn't tell the truth, he batters it. He doesn't love this country, he loathes it.
It is time to impeach this awful man.
It is time to make the case to the American people that Trump is every bit as awful as you think he is and WE HAVE PROOF.
America is positively craving strong, steady, honest leadership. 
America is ready to assemble behind a strong, steady, honest leader.
Lucky then, America has all that in you.
Respectfully,
D. Earl Stephens