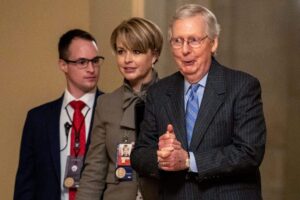 (EDITOR'S NOTE: It was January 15, and only an hour earlier Nancy Pelosi and the Democrats had sent the Articles of Impeachment of Donald John Trump over to the Senate. This would begin a turbulent two weeks in which the Republicans would take unmitigated gall to levels never seen before in a town where Gall is the No. 1 export.  Majority Leader Mitch McConnell was busy feeding the anaconda he keeps in his office when he decided to call a meeting with the 52 other Senators, who would ultimately become co-conspirators in the highest crime against America in her history. The transcripts of the meeting follow …)
Mitch McConnell: Everybody please be seated.
Mitt Romney: There are only four chairs?
McConnell: Then I guess we'll have to keep this short.
Susan Collins: I … have … a … couple … of … questions … if … that's … OK …
McConnell: It's not. I'll get to you in a minute.
Lindsey Graham <fanning himself as always with his feather duster>: I decalayuh, it's rather hot in he-yuh. Puh-lease move it along, Mitch. I need to work on my putting stroke for my game with Mr. Trump Saturday.
Stephen Miller: Der Fuhrer will understand if you putt like a dog.
Romney: How in purple carnations did he get in here?
McConnell: He's everywhere, Mitt.
Romney: Oh no … Say, I think I forget something in my office. I'll be right …
<McConnell interrupts>: You'll stay right there, Mitt.
Romney: Er, yes sir.
McConnell: Let me be crystal clear. I will not say this again: There is not a chance in hell we are allowing witnesses in this trial because every single one of us in this room know Trump did it.  We also know it pales in comparison to the other awful crap he has pulled and is most likely pulling right now. So let's just be fortunate this is all we are dealing with. We can thank Billy B. for that one. How the Dems and the idiots out there fell for that trick when the Mueller Report came out I'll never know … there's enough stuff in that thing to hang three presidents.
Miller: Der Fuhrer will NOT be pleased by what you are saying, Mr. McConnell. Take these treasonous words back!
McConnell: Listen to me, sonny, I am the one guy in this rotten, stinkin' town you don't talk back to, got it? With one snap of my fingers I'll out you to all those homophobic, redneck hillbillies at your boss's next rally. Don't think I don't know what you got going with Mnuchin on the side. We got pictures of you two playing "Hide the Nazi" while dressed only in boots and sharing a red cape.
<The entire room gasps>
Miller: Er, umm, er, yes sir.
<Room silent for 11 seconds>
McConnell: Now where was I. Ah, yes. Witnesses. Again I say, there will NOT be any. Got it?
Collins: If … it … is … OK … I … do … have … a … question.
McConnell: No. But if it makes you feel any better, I have decided you will be allowed to vote for witnesses. Hopefully, it'll fool enough people in that backwards state of yours up there in Canada so you can hold that senate seat I so desperately need in November.
Collins: Thank … you … very …
<McConnell interrupts>: Yeah, yeah, I got it. Just brush up on your acting job. I need even more out of you than I got in that Kavanaugh Hearing. You were a little shaky there.
Collins: I … am … never … shaky.
Marsha Blackburn: She's a terrible actor! Why I'd love to play the part, but the people of Tennessee see me as their conservative pinup gal. Just the other day, Mr. Trump grabbed me by my tight, little rear, and said, 'Marsha, baby, you have aged beautifully, I must say. That you have all those brains, too, well, it just isn't fair!' Well, I just suh-wooned with delight! What a man!!!
<Entire room goes silent again> 
<Still silent> 
<Still silent>

<I mean DEAD-FUCKING-SILENT>
<Lisa Murkowski clears her throat>: Um, I could use a little cover, too, Mitch. A lot of women actually have some respect for me and I have to admit, it's kind of nice. I have never really related well to anybody who smiles and well, it's kind of tingly.
McConnell: Hmmmmm … Tell you what. If you really pour it on, I might let you off the hook. Right now I am leaning towards a no, though. Gotta get to 51-49. I can't leave it up to Roberts at 50-50. I promised him I wouldn't put him on the hook with a deciding vote. And as everybody here knows I am a man of my word.
<The entire room bursts out into five minutes of sustained laughter>
McConnell: I thought y'all would get a kick out of that one …
Graham: But if Susan is the only one voting for witnesses, I decalayuh, who's the second?
McConnell: Mittens.
Romney: Yay!!!! Wait. Me???? Do you know what Trump'll do to me? Did you ever see the pictures of that dinner I had with him. I swear to peanuts, the temperature in the room dropped 40 degrees when I asked for the Secretary of State job. And his eyes … They just rolled over in his head and turned black. I could actually see fire coming out of them. Please, please, please don't do this to me. I beg of you.
McConnell: Relax. I'll make sure he understands. Even he understands Mormons gotta be Mormon.
Romney: What does that mean?
McConnell: Hell if know. I've never even been to Kansas.
Romney: Utah.
<a shriek>
McConnell: What in the hell was that??
Marco Rubio: Ted just put his hand in my pocket.
Ted Cruz: I'm sorry. It's crowded in here and I thought it was my pocket.
Rubio: I will be saying a prayer for you on Twitter tonight, Ted. That's not the first time you have put your hand in my pocket.
<Entire room goes silent again>
McConnell: Gentleman, gentleman, there will be plenty of time for grab-ass when this meeting is done. In fact, call it done. I say again there are to be NO WITNESSES. Everybody clear on that?
<Loud knock at the door>
McConnell: Come in!
<Door opens>
<Entire room goes more silent than any room as ever been> 
McConnell: John???
John Bolton: Bad time?
-END-
(The Journal, photo)