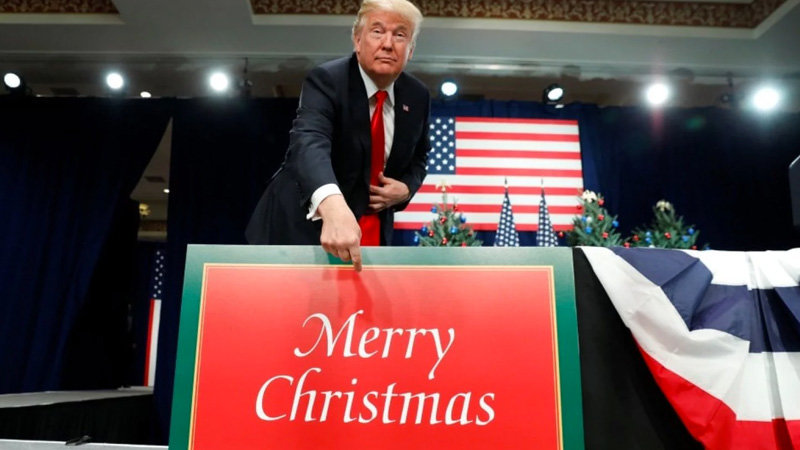 Editor's Note: Christmas came early this year, as the contents of a "Very Important Christmas Letter" penned by Donald J. Trump and apparently scheduled for release Dec. 24, were leaked to us by a fat, bearded, jolly, old soul who lamented, "Years and years of delivering coal to the 72-year-old, very bad boy had never had the desired effect. Maybe printing this will. Ho, ho, ho."
What follows is that letter:
THE WHITE HOUSE
Monday, December 24, 2018, 3:17 a.m.
To My Fellow Americans Who Support Me No Matter What,
I know you are already amazed that I could take the time out of my busy schedule and all the work I did proudly shutting the government down to write this Very Important Christmas Letter to you, so before I forget, you are welcome.
I am graciously writing this terrific letter in the hopes it will start a new Christmas tradition in the White House. Apparently Obama couldn't be bothered to write an important, beautiful letter like this. Even President Franklin never wrote a letter like this among the other great things he did, like discovering electricity using only a kite. So think about that folks. And thank you.
And before I forget, I want to thank all the great people who have helped me have the most incredibly, successful presidency in the history of this great country and help bring me never-ending happiness and joy as I walk among these weird, blood-red Christmas trees this year. And when I find the stupid idiot who thought a Christmas tree should be blood-red, I'll have John Kelly fire him. What a moron.
I also want to thank my great family and especially Ivanka, who I love so much. I mean so, so much … So, so much … She was wearing a green, low-cut dress the other day while fluffing up my favorite Oval Office pillow that made my eyes positively water. And the boots she was wearing … High, black, pointed, dangerous …….. Sigh …….. Um, sorry, where was I …? 
Oh, yes, my family … Jared and Donny Jr. and Melanie and, um, the little one, what's his name, and um, the other two or three of 'em. They know who they are and how much I love them. Family is very, very important to me.
My father, Fred, always used to say to me, "Donny, this is one helluva family I've ended up with, but I suppose the only way you'll ever love me is if I keep shoving millions of dollars into your bank account." Well, as you can imagine, that always meant a lot to me.
As we celebrate this season of loving and giving and antlers and candy, it is important we remember the people who don't have a lot, like everybody in West Virginia. I have tried very hard to give them more and more, but Nancy Pelosi and the disgusting Democrats won't let me shove them back in the coal mines like I promised. This is so, so unfair. So unfair … Right now they should all have great jobs shoveling coal but instead are under attack by angry Mexicans who are taking all the other jobs they could be having — like raking forests. This makes me so angry. But I depress …
I am also very joyful that this WITCH HUNT is almost over and there is NO COLLUSION!!!  This fake, awful Mueller investigation has been very, very hard on me and a little bit hard on Vlad, who doesn't deserve this. I told him this during my trip to The Overseas when we were talking in Helsinki, France. He appreciated that and told me to hang in there, and that nobody had ever done more nice things for him than me. Needless to say, the fake, awful, stupid, moronic, dumb media never reported any of that. They just make things up to hurt me and my gigantic feelings.
I mean who else would proudly shut down the government over the holidays to give our federal workers a holiday? I hate them but I still want them to enjoy some time off with their partisan families. And isn't that what the joyous Christmas season is all about? I even sent fruit baskets to the kids in the cages who were separated from their parents for illegally breaking into our country and trying to steal all the jobs in West Virginia.
This is why the big, beautiful wall is so, so important to me. It is also important to the 72 percent of America who support me. Why Stephen Miller was just telling me the other day, that my approvals are even higher than Abraham Lincoln's after the Revolutionary War. That Miller's a weird kid, but he's got a big brain inside that spray-painted head of his. He's going places, I tell you. I got a real eye for talent, as you saw on the highest-rated show in television history.
And speaking of talent, how about Rudy, eh folks? Every time I turn on the TV, Rudy is out there turning heads and giving the lying, stinking, awful, disturbing, disgusting fake media all they can handle. Fact-checking Rudy is like trying to pull Chris Christie away from an all-you-can eat buffet at Howard Johnson's. I hope Rudy has a merry, merry Christmas because he deserves it. I don't know how the hell he keeps everything straight. I certainly can't.
Finally, I want to wish a Merry Christmas to all the Christian soldiers who have marched with me through hell and back and to the most successful, greatest presidency in the history of America. I don't think I could have done all this without you. Actually, I probably could have, but your support does mean a lot to me. So in closing I want to write about a Christmas Bible story that has always meant the world to me.
Oh Silent Night! Holy night! Look upon the sky and the bright star that shines upon the sheep and the angel's manger. Go, Moses! Ride thine camel to the manger. But beware! There art three wise guys hanging out looking for babes. They come with gold and frankencents and mirth. They really don't want to look upon the babes, but they can't help thyselves. They just want to grab them, because they can. If thou can't stoppeth them at least make sure Mary and Joseph are compensated. It is Christmas after all!
That one has always brought such joy to my terrific, terrific heart.
So Merry Christmas and thank you for thanking me so much this year.
Donald J. Trump