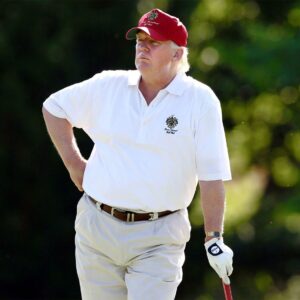 WINTER SOUTHERN WHITE HOUSE OF THE FORMER SCREEN ACTOR'S GUILD MEMBER, DONALD J. TRUMP

Saturday, February 6, 2021
Dear Everybody Who Still Completely Adores Me No Matter What,
First, I am completely innocent of whatever it is everybody is accusing me of doing. I'm sure it was nothing, and is just the latest instance of everybody trying to make me a pervert of justice.
I am not a pervert of justice, OK? I love justice. I hate perverts.
Now before I get into my first Very Important Letter since the election was brutally stolen from me by Mike Pence, Republican traitors and Democrat lowlife, disgusting, awful scumbag women, I want to assure everybody that I am not in morning.
Morning has no place for me in in my gigantic, terrific life. Everyday is an afternoon on the golf course as far as I am concerned. Morning is for losers. And as you know I am not a loser — especially after winning by the largest landslide in the history of this great country — twice.
Nobody, and I mean NOBODY, can ever take that away from me, and certainly not a rotten American voter, who crawls out of our shit hole cities and shouldn't be voting in the first place. No voters ever going to tell me what I can or cannot do, got it? The only person who can tell me what to do is Nobody. Get it? Nobody. Ha! You can see I am in great mood because I am being even funnier than normal this morning. Even though I'm not in morning.
And besides, I still fully expect the Supreme Court to reinstate me as president anytime now. They are just figuring out a way to do it that will make everybody terrifically happy. At least that's what Brett tells me. Good kid, Brett. Loyal. Loyalty will get you everywhere with me, as so many people have found out over the years.
But I depress …
And I am still waiting for a thank you from that rotten Mitch for helping keep things so close in Georgia during those stupid, illegal Senate runoffs. I didn't have to go down there to that sweatshop of a state if I didn't want to. But I did. And I campaigned down there for those two idiots who were running down there and never stood a chance.
The hatchet-faced skinny broad was a complete mess. Just so you know, she made several moves on me when I was down there, and I had to tell her to politely back off. I was already taken — and several times over, may I add. I am even taken with myself. So there.
As it is those dumbos lost worse than I did and I didn't even lose. That's how bad they lost.
And speaking of Georgia, I want to thank my good friend Monica Taylor Green. What a terrific, terrific lady, eh folks? A little too old and fat for my liking, but she tries. She tries … and that's what counts. Many, many women can't help being fat sometimes. It's just their geriatric makeup.
I do think Monica is going to have a tremendous, tremendous career. As long as she never apologies for anything she does, she'll be fine.
I also want to make sure to thank John Hawley, Margaret Blackwood, Matt Gates, Jim Jordan and all the other great folks who have had my back every step of the way and during the greatest presidency in the history of this world. And this world has been around a long time, folks, a long time … At least as long as when Moses came off of Mount Cyanide and built an arc.
That story's a nod to my Christian friends, who, as it turns out, have not been praying hard enough for my victory. Please do better. Thank you.
I also want to thank Kevin McCartney who was on his knees for three hours down here this week. It was just incredible. Never seen a guy who could move that fast on his knees except for maybe Stephen Miller at feeding time. Just incredible.
Anyway, McCartney said he was here to kiss the ring. Well, joke was on him because I don't even wear a ring. I'm not a pansy folks, OK? So instead of kissing the ring I had him kiss my ass instead. Worked great! Real pro that guy. He needs to do better at keeping his stories straight, though.
Just so you know, a few people, not a lot, but a few, have asked if I miss being on Twitter. The answer is of course NO. Oh sure, I reflexively reach for my phone about 72 times a day, but it actually works out great because I can continue searching for a new bride.
Don't get me wrong, Melanie has done a great job standing by my side no matter what, but I think we have gotten a little sick and tired of each other. In fact, I haven't seen her since we moved down here. I think she is spending more and more time with our youngest … er … the tall kid … er … whatever the hell his name is.
Kid's got a bright future being so tall and all. I mean, he's not quite as tall as me yet. I know, he looks taller, but I always scrunch down when we take pictures together to make him feel better. How many dads would do that, eh? Not many, that's how many. So stop asking.
The important things is, I am still much, much taller than he is.
I also seem to have a message from Lindsey Graham every time I reach for my phone. I literally have to tell him 27 times a day his secrets are safe with me. What a sucker that guy is. I have him so far over a barrel, it's amazing he doesn't fall in. Ha! Told you. I have become even funnier since the election was completely stolen from me. It's amazing.
When I'm back in the White House, I assure you I will lose my sense of humor again.
Well, I think I have treated you to enough incite this morning, even though I'm not in morning. There is golf to play, waiters to stiff, and women to pinch. Life at a country club, folks. It has its privileges …
Oh, and just so you know, I have never slept better, you stupid losers who hate me for no good reasons whatsoever.
Nobody has more pillows than I do …
Thank you for continuing to adore me no matter what,
Donald J. Trump
(D. Earl Stephens is a retired journalist and author of the book, "Toxic Tales: A Caustic Collection of Donald J. Trump's Very Important Letters")