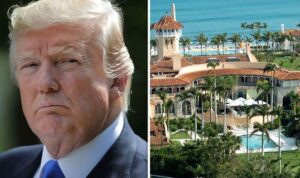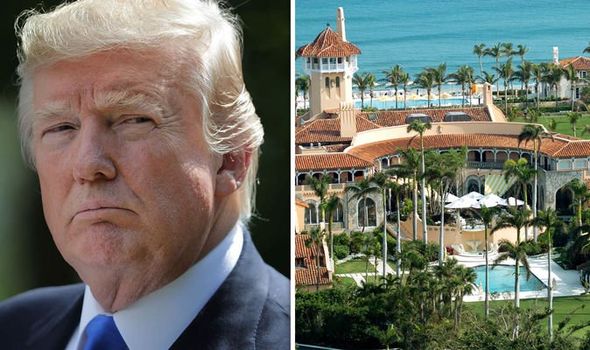 (EDITOR'S NOTE: Donald Trump, his family and a few hostages are celebrating Thanksgiving at the Mar-a-Lago Club today. We are almost certain this is what it sounds like. )
DONALD TRUMP: I just want to thank everybody for being here at this incredibly golden, terrific dining room at this hollowed out, legendary country club, so that we can celebrate when the pilgrims came to America and established this great, tremendous country that I have been so easily able to prosper in.
<loud fart>
TRUMP: OK, who was that, God dammit??? WHO WAS THAT??? Eric, was that you again????
ERIC TRUMP: Not me, pop. I think it was junior.
DONALD TRUMP JR <sniffling>: Oh, was not.
ERIC: Was too!
JR.: Was not!!!!
ERIC: Was too!!!
DONALD TRUMP: Will you two please shut the fuck up! Jesus Christ, we are trying to enjoy a terrific, sensational meal that the incredibly lucky staff cooked up on our behalf and all you can do is act like a couple of fucking hyenas!!! Now apologize to the steamed guests at the table!!!
ERIC: I'm sorry.
JR. <sniffling>: Yeah, me too, I guess …
STEPHEN MILLER: Speaking of Jesus Christ, you were going to say a prayer, Fuhrer, before we enjoyed this wonderful bounty that was gathered by these poor, but very submissive brown people strictly on our behalf.
DONALD TRUMP: Thank you, Stephen. Let me collect my thoughts … "Oh father of holy days, let us collectively hold our breaths while we think about all we have and all that you have provided from thine pastures where your sheep roll down thee golden roads. You are a shepherd and a damn good one. Let us remember that even though you live in heaven, you have decided to join as this tremendous country club, where the broads are thin and the steaks are fat. And even though we can't see you, we have set a spot at this magnificent, elegant table so you can enjoy my company as I regale my guests with lots of tremendous stories of yore and tidings. Oh holy ghost, thank you for your presence in the cradle of thou holiness. Your faithful friend and mentor, Donald J. Trump."
<11 seconds of silence in the dining room>
DONALD TRUMP: Well, what the fuck is everybody waiting for?! Let's eat!!!!
MILLER: Ya, Fuhrer. YA!!!!! Such a tremendous, powerful prayer!!!
JIM JORDAN: PASS ME THE MASHED POTATOES AND THE YAMS AND THE WHITE MEAT AND THE …!!!!!!
TRUMP <interrupting>: Why are you screaming?? We're at the dinner table, not some wrestling match.
JORDAN: I WASN'T, SIR, IT'S JUST HOW I TALK. I'LL TRY TO KEEP IT DOWN WHILE WE ENJOY THIS TERRIFIC FEED!!! NOW PASS ME THE WHITE BREAD!!!!
TRUMP <mumbling>: Jesus fucking christ …
IVANKA TRUMP: <coos inaudibly for 12 seconds>
TRUMP: I'm sorry, bumblebee. Didn't mean to take the lord's name in my veins. It's just that I am constantly surrounded by idiots. But not you! Thank God for you! I mean look at you. Long, beautiful legs … and those boots. Why I could follow those boots all the way up to yer …
IVANKA: <interrupts and coos inaudibly for 27 seconds …>
TRUMP: Sorry, cuddle-thumper. My mind was racing. You drive my crazy. Won't happen again — till maybe later, if you know what I mean …
JORDAN: WHAT THE HELL IS SHE IS SAYING???? CAN ANYBODY HEAR HER?????
TRUMP: Shut up, Dick.
JORDAN: IT'S JIM, SIR. JIM.
TRUMP: It's Dick, got it, wise guy????
JORDAN: YES SIR! NOW PASS ME SOME DARK MEAT. I DON'T DISCRIMINATE AT THE DINNER TABLE!!!
<loud laughing>
TRUMP: Good one, Dick. I hate jokes, but I got that one. Ha. Pretty good. I'm laughing on the inside.
JORDAN: THANK YOU, SIR. I GOTTA MILLION OF 'EM!!!!!!
TRUMP: Don't push it, Dick.
JORDAN: YES SIR!!!!! NOW PASS ME THE GRAVY!!!!!
ERIC: Can I have some pumpkin pie and apple pie and cherry pie now? And lots and lots of whip cream??????????!!!!!!!
TRUMP: Finish what's on your plate first, Eric.
ERIC: Awwwww, shucks pop, do I have ta?
TRUMP: Yes. And wipe that stuffing off your forehead.
<a door opens>
TRUMP: We'll, well, look who finally made it, speaking of holy ghosts …
MIKE PENCE: Sorry for being late, sir. Me and mother got hung up at the airport. Our flight wouldn't leave because one of the passengers refused to wear a mask.
TRUMP: Well, I hope it was you. I mean, you aren't falling for this mask crap are ya, Mike? Well?? Are ya?????
PENCE: Well, er, ummmm, I, uhh …
TRUMP: I'm fucking with ya, Mike.
PENCE: Ha. Of course! You haven't lost your touch, sir!
TRUMP: Yer damn right I haven't. Now shut up, and sit down next to me and Stephen. Your mother can find a spot at the end of the table.
PENCE: Er, um, but, she …
TRUMP: I'm fucking with you again, Mike. Come on and sit over here next to me, Mother Pence. You dress up pretty good for an old broad. What are ya, 70? 80? Why, I bet yer a real rascal in the bedroom now that yer past menoclause.
PENCE: Sir, please. That's, ummm, well, it's probably not necessary to say these things, unless of course you think it is, in which case …
TRUMP:  Mike. Relax. I'm fucking with you again.
PENCE: Ha! Ummm, hahaha. Thank you for fucking with me, sir!!! I enjoy it. It's fun! Uh, say …. where is your wife, sir?
TRUMP: She's out shopping with what's his name. My tall kid. The one who doesn't talk a lot, thank God.
IVANKA: <coos inaudibly for five seconds>
TRUMP: Thanks, lightning bolt. Barron! She's out shopping with Barron. Hopefully they'll be along shortly. I gotta tee time in 45. McCarthy's gonna join me.
PENCE: Kevin?
TRUMP: No, Paul McCarthy, you blundering moron. Of course, Kevin.
PENCE: McCartney.
TRUMP: What???
PENCE: Paul McCartney, sir. I think you meant, Paul McCartney.
TRUMP: I think I'm gonna have Stephen and his Proud Boys finish you off, if you keep this up.
MILLER: Ya, Fuhrer! Ya! I can take him down into my bunker. We can play pin your tail on the racist! It will be so brutally fun!
PENCE: Oh my God …
TRUMP: He won't help you, wise guy.
PENCE: I am so, so sorry, Fuhr, er, sir. Won't happen again.
TRUMP: Damn right it won't. Now what do you say we finish up here and retire to the Incredibly Spectacular Golden Smoking room where we can tug on a few Cubans and discuss how we will once and for all stop the steal?
<INCREDIBLY LOUD FART>
TRUMP: WHO DID THAT!!!!!!!!!!!!!!!